Field Note #105: Finding Joy in Nepal
As I wake this morning, not knowing if it is morning or evening or what time of day it is, I am reflecting on my trip to Nepal. Sleepy and a little queasy, I am slowly reintegrating back to normal life. I haven't experienced my post trip "ah ha" moment yet, or maybe this is it. I thought I just needed to write down a couple of thoughts to share.
By far my favorite part of the trip was going to Salghari. It was day two, and the group was going to do elephant riding and take a canoe trip. Waiting to depart, I felt a push not to go. I love it when God pushes me. He always does it at the last minute, and thank goodness I was listening. I looked at Lisa Merritt and said, "I am not going." "What?" she said looking at my eyes with an inquiring, concerned look. But I think she knew. I needed to go with her to Salghari to check on the existing wells the team in December had made. It was one of the best decisions I have ever made.
We arrived in Salgahri with Kaushal and Sangrila, our ground crew and Nepali family. The ride was joyful. I was really getting to know these two and their beautiful hearts. When we arrived at the village, they were celebrating Happy Holi. Happy Holi is a holiday, in Nepal, representing good overcoming evil. An evil God was burned and her ashes that were left were brightly colored. These bright colored ashes are represented with color chalk that is thrown in the air and on each other during this yearly celebration. The atmosphere was playful and joyful. Everyone was running and laughing and throwing color on each other. Wow. Could this get any better?
We walked to the first well. The villagers and children were intrigued. Who were these people coming into their town on this holiday? And then from a distance we heard a little voice scream "Lisa?" It was "Gift." He remembered Lisa from December! How amazing; he remembered! Such a welcoming sound. All the children started to gather around us and around the well. They were hesitantly dancing and celebrating Happy Holi. The first well we came to was not in use. It was not producing any water due to the lack of use. It had dried up, and was an easy fix. We poured water over the top. This loosened it up and the well produced water. Kids were washing their hands and faces from the Happy Holi colors thrown on them only to get smacked with color again and again. The laughter was enough to break my heart into a thousand pieces. It was beautiful.
And then it happened…we got Happy Holied! Colors were flying, and the children thought it was hysterical to smash the color on our faces. We spent a good 15 minutes running and laughing before we went to the next well.
The second well we came to was being used. A mother was washing clothes as her children ran around her playing Happy Holi. What a sight to see! A well being used and the joy around it was enough to knock me off my feet. Can this get any better?
Well after well, we found, were being used. Ladies and men of the town were participating now in Happy Holi. Running and laughing and throwing colors, it was especially fun for them to get us with the colors. At one point, the mayor (for lack of better words) was running after ME with a whole bag of color in his hands! I was dodging clothing lines and trees. I finally gave up. I had women running after me now too! Man! Did they get me good. I had happy holi in my teeth, and I think I inhaled quite a bit too. Pure JOY!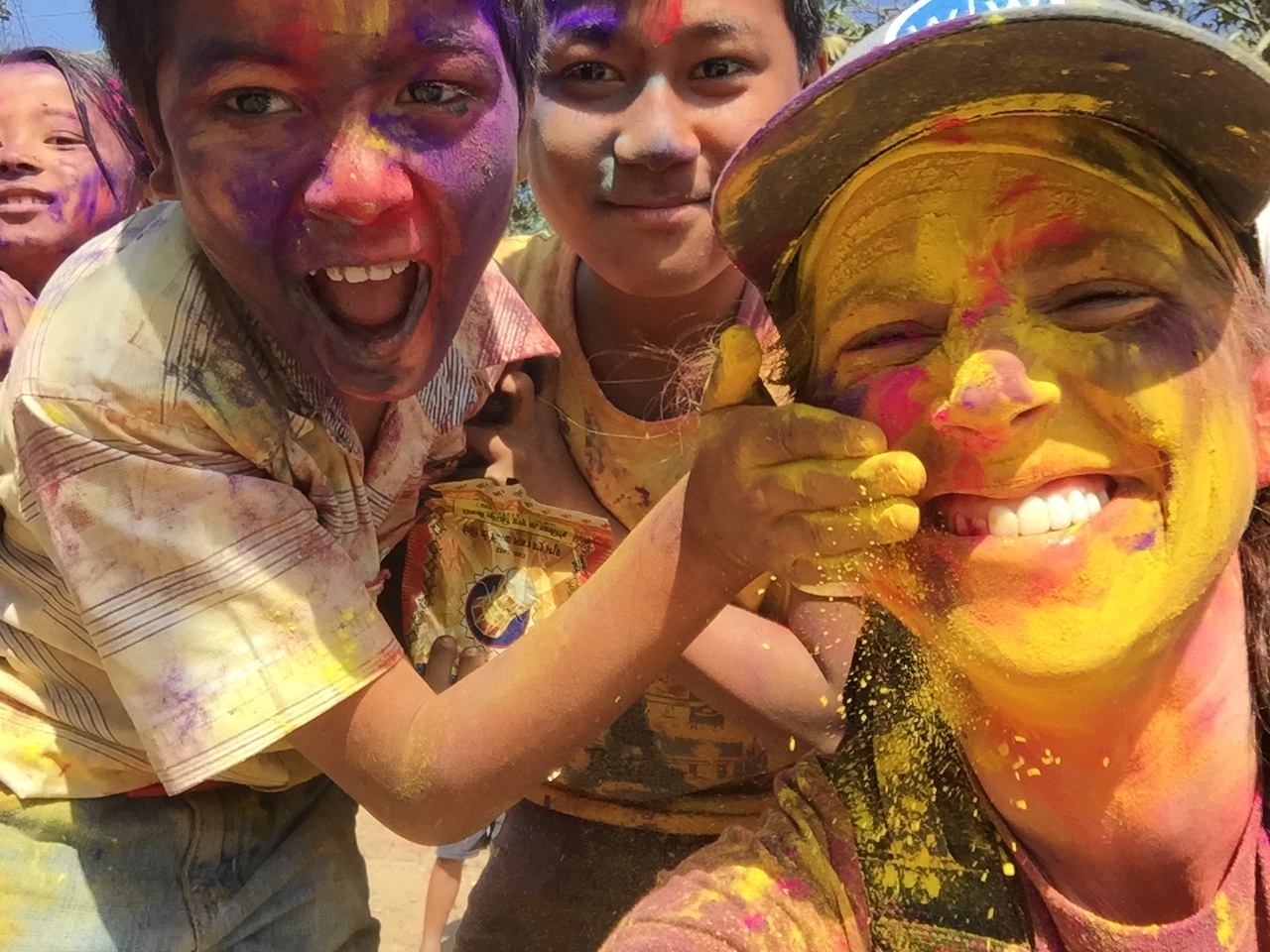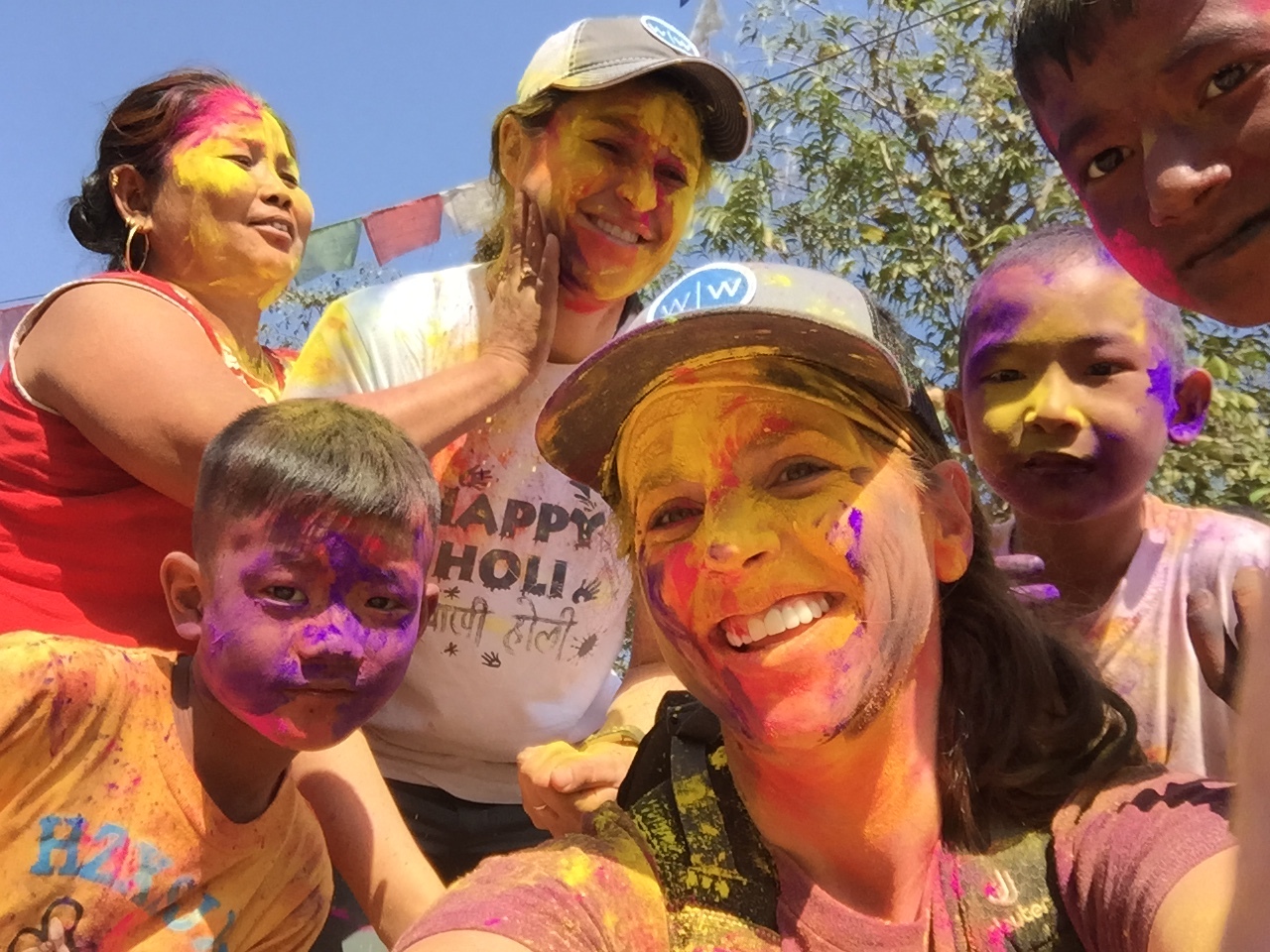 At this point we are caked in color. Despite our efforts to wash off our faces, we were smacked with color time and time again. Useless. Just give in...give in to the joy. I did that day. We danced and sang, and I chose to be joyful. My heart is full. I hope I will always remember the joy I felt that day with complete strangers that welcomed me into their lives.
- Leslie